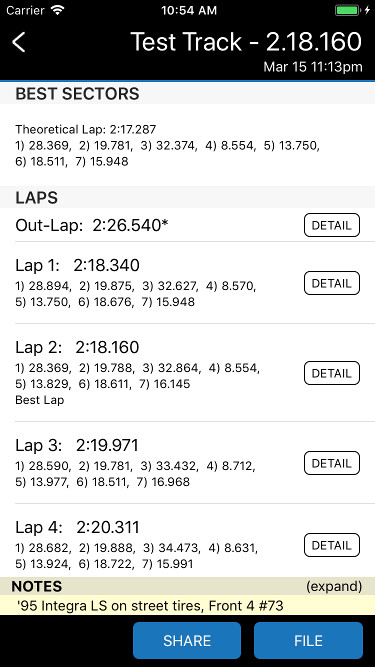 To view your recorded sessions, tap on the folder icon near the right side of the navigation tab bar. You can then tap on an individual session to open it, or swipe left to delete.

Once a session is opened, it will show your times and other data, depending on the recording mode and other options:

0-60 MPH, 0-100 MPH, etc. will be displayed if you accelerated from a stop at the beginning of the session (typical for Drag Race and some Segment recordings).


Theoretical Best Lap Time & Best Sector Times will be displayed for Circuit recordings, when the track that had sector split points defined and multiple complete laps were driven.


Sector Times will be displayed below each Lap (Circuit mode) or Run (Segment & Trail), when the track had sector split points defined.

A 0.000 sector time typically indicates that a sector split trigger was missed, which can indicate a GPS problem, an incorrect sector split point for the course configuration, or that the sector split points were driven in reverse order or out of order.



Drag Race recordings will show the completed run time for the selected track length, with each timing split and trap speed below it (330', 1/8 mile, 1000', 1/4 mile, etc.)

How To:

Analyze a Lap / Run & View Data Graphs: Tap on its "Detail" button. This screen enables you to view and compare data statistics, graphs, and map displays. Tap on the configuration gear icon near the top right for more options.


Play & Export Video: Tap on the laps to select the desired range (these must be consecutive laps; no gaps), and then tap on the "Video" button. You will then be offered some data overlay configuration options, as well as an Export button at the bottom right. The "Video" button is only available when video was recorded on your device for the session, and does not apply to External Camera Control.


Export Data: Tap on the "Share" button, and choose "Send Data File", then you can choose CSV, GPX, KML, or VBO format. For more detail on those, please see the Interoperability page under "Data Analysis". The "WiFi Transfer" and "USB File Sharing" options are typically used if you're wanting to send data to another TrackAddict user or to RaceRender.



Rename / Delete / Move: Tap on the "File" button for these options.